Home

/

AP80 PRO Air Purifier 70-90m2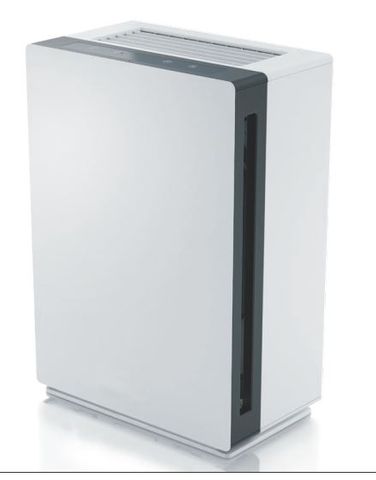 AP80 PRO Air Purifier 70-90m2
$2,750.00 inc GST
Description
Description
Wines Office Furniture are the Victorian Distributors for Quadient:
AP80 PRO Air Purifier
This professional air purifier purifies indoor air for room sizes ot 70-90m2.
It uses the Novel 360 degree multi-layer filter system with long life
HEPA filter technology and highest amount of specialized active carbon.
360° filter (HEPA + active carbon)
Fine mesh prefilter
High performance turbo mode
Low energy consumption
Ultra quiet operation
Night mode
Remote control
Superior sensors for automatic mode
Convenient timer (start & stop)
Recommended for allergy sufferers
Effective against chemicals & smells
Effective against PM2.5 and minor
Effective against nitrogen dioxide (NO )

Technical details:
Power supply 220-240V, 50/60 Hz
Fan speed levels 5
Power consumption 6 - 175 watts
Noise levels (dB) 18.7 - 63.4
Air throughput up to 800 m³/h
Dimensions (H x W x D) 668 x 468 x 275 mm
Weight (kg) 15
* With a room height of 2.50 m.

Product description:
The AP80 PRO is a professional air purifier with a high performance 360° multi layer
filter. Filters pollutants such as dust, particulate matter (PM10, PM2.5 and minor
pollen and acarid allergens, pathogens such as bacteria and mould spores, cigarette
smoke, exhaust fumes (also NO ), chemical vapours (Formaldehyde, Toluol,
n-Butane, VOC,...) and odours from the idoor air. High-quality control panel provides
function modes such as Auto/manual/turbo. In auto mode, AP80 PRO continually
monitors the air quality with intelligent sensor technology (sensors for fine dust and
odours) and automatically controls the power. In turbo mode AP80 PRO purifies the
indoor air in a short period of time. In addition to the automatic and turbo adjustment,
the fan speed can be manually adjusted at 3 levels and furthermore to the separate
super quiet night mode. Timer function can be preset to operate whether in "start
timer" mode, or in "stop timer" mode. Further features such as lock function, filter
status or a customisation of the automatic mode can be operated via the
corresponding APP "IDEAL AIR PRO". AP80 PRO automatically informs you, when to
change the 360° filter. On an average, the 360° filter has to be changed after
12 months depending on the intensity of the usage.
Downloads